Fall Back-to-School Outfit Inspirations: Embrace Chilly Mornings in Style
Fall Back-to-School Outfit Inspirations: Embrace Chilly Mornings in Style
The air is turning crisp, pumpkin spice lattes are back on the menu, and trees are starting to sport their annual autumnal hues. That's right, fall is upon us, and with it comes the excitement of the new school season.
As mornings grow chillier, it's the perfect time to delve into your child's wardrobe and mix comfort with style, ensuring they confidently enter the new academic year. Especially with those cooler days, we get the delightful opportunity to bring out those adorable jackets waiting for their moment to shine.
Classic School Vibes with a Fall Twist
Pleated Skirts and Knee-High Socks: Start with a pleated skirt in neutral shades like beige or navy, and pair it with cozy knee-high socks. Add some ankle boots or loafers, and you have a classic and perfect look for the season.
Polo and Sweaters: Layer a warm-colored polo shirt under a snug sweater. Opt for fall hues like burnt orange, burgundy, or olive green to capture the season's essence.
Sporty Chic for the Energetic Days
Autumn-hued Tracksuits: For those active days, a tracksuit in deep blues, rustic oranges, or even a muted green is functional and trendy. It's a no-fuss outfit that screams Comfort.
Warm Headgear: Beanies in fall shades or even baseball caps can be stylish, ensuring your little one's head stays warm during those early morning drop-offs.
Artsy and Playful for the Creative Souls
Fall-themed Graphic Tees: A graphic tee featuring playful motifs like pumpkins, leaves, or even a cute fox can be paired with jeans or corduroy pants for a fun, artsy vibe.
Accessories to Accentuate: Consider adding a chunky knit scarf or a beret. They can be the centerpiece in an otherwise everyday outfit, adding a touch of color and texture.
Prioritize Comfort with a Dash of Elegance
Oversized Sweaters: Few things scream fall like a cozy, oversized sweater. Whether they have patterns and textures or are plain, when paired with leggings or skinny jeans, they strike the right balance between Comfort and style.
Mastering the Art of Layering: Start with a basic tee, throw on a flannel shirt or a light sweater, and as the pièce de résistance, add that cute jacket or trench coat. It's all about creating depth and dimension with layers.
All About Those Fall Jackets
Denim All the Way: A classic denim jacket can be the perfect outer layer, especially those with a hint of fleece lining. It's versatile, stylish, and offers just the right amount of warmth.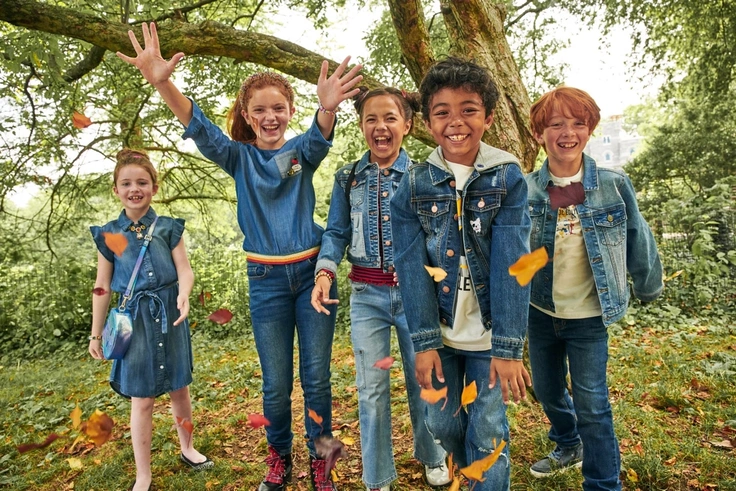 Fake Leather Jackets for the Win: Want to add a touch of sophistication? A moto jacket does the trick. It's timeless, looks cool, and perfect for those slightly cooler fall days.
Bomber Jackets: Combining coolness with function, bomber jackets, especially in special limited edition styles like these Nasa Bomber, are all the rage. The pockets? That's just a bonus for all those little treasures your child might find!
The transition from summer to fall is more than just a change in weather; it's an evolution in style. Returning to school during this season provides a beautiful canvas for children to express themselves, blending the warm tones of fall with the rejuvenated spirit of a new school year.
It's all about walking into school feeling snug, confident, and looking every bit the autumnal style icon.
Ready to try Kidpik?
Tell us about what your child loves (and doesn't love!) and our stylists will do the rest. They'll receive customized, surprise fashion delivered on your preferred schedule to unbox and try on at home.
Get Styled
Skip, pause, or cancel anytime.