Celebrating the 4th of July Weekend in Style: Trendy Outfits and Memorable Activities
Celebrating the 4th of July Weekend in Style: Trendy Outfits and Memorable Activities
As the 4th of July approaches, anticipation for a weekend filled with celebration, fun, and style grows. It's the perfect time to unite with family and friends, embracing the festivities and creating lasting memories. We'll share some tips on how to celebrate the day in style, focusing on trendy outfits and exciting activities that will make this weekend unforgettable.
Embracing the Spirit of Independence

The 4th of July is a day to express our love for our country and celebrate the spirit of independence. And what better way to do that than by dressing the part? This year, the fashion scene is buzzing with stylish options that reflect this spirit.
Imagine yourself in a trendy ensemble, blending the iconic colors of the American flag—red, white, and blue. Experiment with different shades and textures to create a unique look. Consider incorporating prints like stars and stripes, which have become all the rage. You can express your love for the USA while staying fashionable and on-trend.
Mesmerizing Fireworks and Stellar Style

When the sun sets, and the sky becomes a canvas of vibrant colors, it's time to gather under the stars and witness the mesmerizing fireworks. Make this experience even more special by creating a stylish outfit that captures the night's enchantment.
Opt for a chic yet comfortable attire—a flowing maxi dress in shades of blue, a light blue star glitter top paired with studded stars denim shorts, or a comfortable jumpsuit with pops of red accessories. Let your outfit reflect your excitement and anticipation as you prepare to be dazzled by the magical fireworks display.
Unforgettable BBQs and Picnics

When you think of the 4th of July, you think of backyard BBQs and delightful picnics, where friends and family come together to savor delicious food and enjoy each other's company. As you plan your outdoor gathering, consider combining comfort with style to create an inviting atmosphere.
For a BBQ extravaganza, choose a chic summer dress with a touch of red, accessorized with white sneakers or sandals. Embrace the laid-back vibe by pairing denim shorts with a cute striped tee or a breezy off-the-shoulder floral top. Add a touch of Americana with accessories like a bandana headband or a star-spangled tote bag.
If a picnic is more your style, opt for a flowy maxi dress or a playful striped jumpsuit in patriotic colors. Pair it with comfy sandals and a wide-brimmed hat for elegance. Don't forget to pack a picnic blanket and bring traditional treats like red, white, and blue fruit skewers or mini flag-inspired cake pops.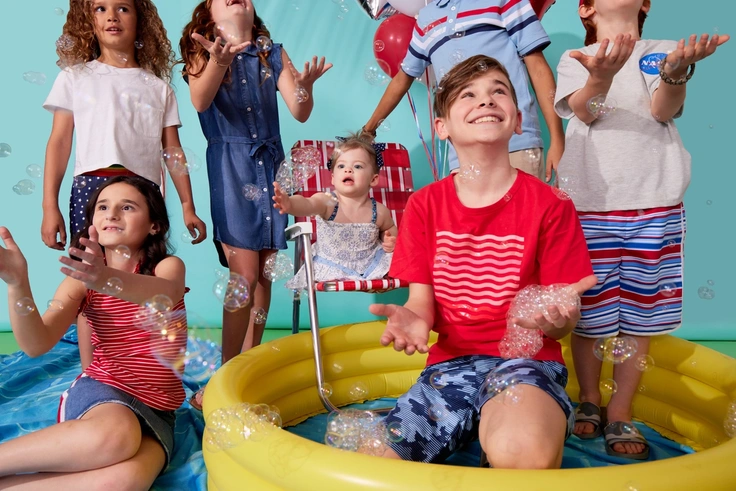 The 4th of July weekend is a time for unity, celebration, and expressing our love for our country. We can make this weekend unforgettable by embracing trendy outfits and participating in exciting activities.
Whether you watch the mesmerizing fireworks or enjoy a BBQ or picnic with loved ones, let your style reflect your patriotic spirit and create memories that will last a lifetime.
As you celebrate, remember to prioritize safety, follow local guidelines, and show gratitude for the freedom we cherish. Have a fantastic and stylish 4th of July weekend filled with joy, laughter and a sense of togetherness.
Happy Independence Day!
Ready to try Kidpik?
Tell us about what your child loves (and doesn't love!) and our stylists will do the rest. They'll receive customized, surprise fashion delivered on your preferred schedule to unbox and try on at home.
Get Styled
Skip, pause, or cancel anytime.