5 Kids Clothing Trends For Fun in the Sun and Other Warm Weather Adventures
5 Kids Clothing Trends For Fun in the Sun and Other Warm Weather Adventures
The unmistakable vibe of summer is here and it's time to turn the heat up on your little ones' style quotient. Kidpik's summer collection is made up of the season's must-haves, ranging from trendy graphic t-shirts for boys to colorful versatile dresses for girls. Below we explore some of the season's must-have trends.
GIRLS' SUMMER CLOTHING TRENDS
Color Coded
This summer, girls' fashion trends focus on vibrant colors and playful prints. These colors can be seen in everything from sundresses to swimwear, making your child stand out in the sunniest of ways. Citrus hues like zesty lemon yellows, bright oranges, and tangy lime greens are making a splash, adding a fun vibe to any outfit. Pastel Poppy Pink, a soft hue, brings a touch of charm to the warm weather season.
Red, White, and Blue for you!
The classic combination of red, white, and blue is a timeless trend in girls' summer clothing. These colors offer a sense of fun, patriotism, and timeless style that's perfect for almost every occasion. Bright red adds a vibrant, energetic touch, while crisp white brings freshness and lightness to an outfit. Blue, particularly in deeper navy shades, offers a sophisticated, versatile element that pairs well with both bold and subtle hues. Whether it's a striped sundress, a navy-blue romper, or a white tee paired with red shorts, this color palette is a summer style winner.
BOYS' SUMMER CLOTHING TRENDS
Cool and Casual
This summer it's all about graphic t-shirts for boys. These tees are a perfect blend of cool and casual, and they instantly transform your little guy's look with vibrant graphics that combine what's current with a touch of retro. Pair these with shorts or comfortable bottoms, and your kid is all set for his summer adventures.
Hello Hawaii
Boys' fashion is taking a tropical turn, drawing inspiration from the vibrant landscapes and laid-back lifestyle of Hawaii. Palm trees and Hawaiian flowers are making a bold appearance on everything from hoodies to t-shirts and swim trunks. Hoodies are great for those cooler summer evenings, providing both comfort and style. T-shirts featuring these prints are ideal for everyday wear, whether it's a day at camp or hanging out with friends. And let's not forget swim trunks - with their colorful Hawaiian motifs, they're a definite must-have for any beach or poolside outing.
BOYS' AND GIRLS' FOOTWEAR
Step into Summer: Footwear Trends
When it comes to summer footwear trends for boys and girls, it's all about combining style, comfort, and functionality. Sandals are a classic summer staple, offering breathability and ease of wear for all those outdoor adventures. They come in a range of colors and styles, from sporty to chic. Sneakers continue to be a favorite – for obvious reasons! This season look out for shoes that have a dressier appearance but offer the comfort and feel of a sneaker - it's the perfect blend of casual and classy for those slightly more formal summer occasions. When going poolside or to the beach Kidpik slides are making a big splash.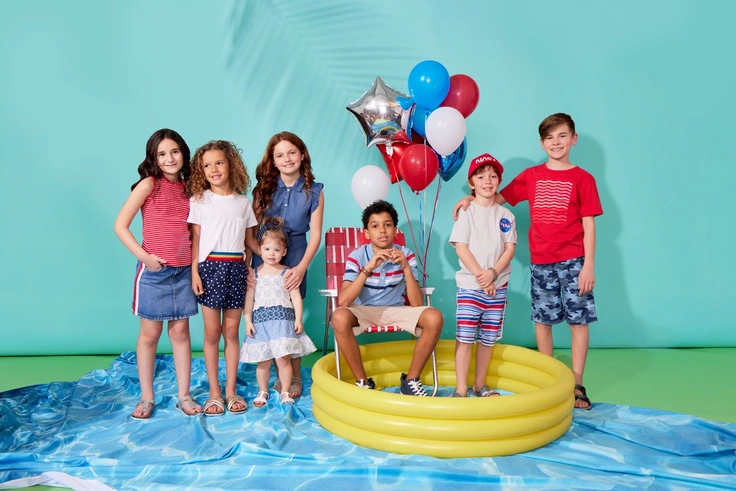 Ready to try Kidpik?
Tell us about what your child loves (and doesn't love!) and our stylists will do the rest. They'll receive customized, surprise fashion delivered on your preferred schedule to unbox and try on at home.
Get Styled
Skip, pause, or cancel anytime.